Print Recipe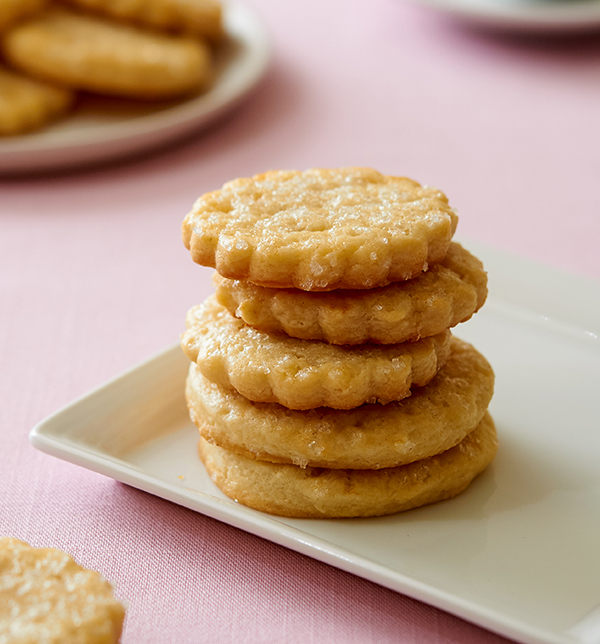 Almond Shortbread
The single most requested item from the days I owned a bakery. Rich, buttery, nutty and not too sweet. I sold them both plain and dipped in chocolate. I've included both recipes here.
Instructions
In a food processor fitted with the metal blade, pulse the 2 tablespoons of the whole wheat pastry flour with the almonds until finely ground into a meal. Add the remaining whole wheat pastry flour, maple sugar and all-purpose flour. Pulse to combine.

Drop the butter in all at once and pulse on and off to form a stiff dough. Turn the dough out onto a long sheet of plastic wrap. Wrap and press the dough firmly and evenly into a long rectangular log, about 2 inches wide, as you wrap it tightly in the plastic wrap. Refrigerate for at least 2 hours or overnight.

Position rack in the center of the oven and preheat the oven to 350 degrees F.

Unwrap the dough and cut into slices about 1/4 inch thick. Place the shortbread on a baking sheet lined with parchment paper, with at least 1/2 inch between slices. Bake for 10 to 12 minutes or until well browned. Cool on a wire rack.

To dip the cookies: Do not melt these chips in a microwave oven, or they may scorch. Malt-sweetened chips will have a thicker viscosity than sugar-sweetened chips, hence the need for vegetable oil.

In a heatproof medium bowl set over hot, not simmering, water, melt the chocolate and oil, stirring occasionally until smooth. Tilt the bowl in the double boiler so the chocolate collects in a deep pool. Line a clean baking sheet with parchment or wax paper. Hold a cookie by the edge and quickly dip halfway into the melted chocolate.

Remove the cookie, shaking to remove excess chocolate. Drag the bottom of the cookie along the lip of the bowl to remove more excess chocolate. Place the cookie on the baking sheet. Refrigerate to set the chocolate, about 15 minutes. Store the cookies at room temperature in an airtight container with wax paper separating the layers.
Recipe Notes
Recipe by Mani Niall.